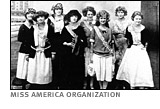 The first nine Miss America contestants don their bathing suits on the Boardwalk. Miss America 1921 Margaret Gorman is third from left (above).
According to history, bathing suits first appeared in the year 200 A.D. as a "suit" to be worn during public bathing. However, "recreational" bathing suits (as we know them today) date back to the mid-1800s so that water lovers could enjoy the water without ruining their fine garments. In those days, clothes were very expensive and difficult to wash.
The 1800's bathing suit was a non-revealing garment usually of dark blue or black flannel accompanied by bloomers (wide, loose trousers gathered at the knee) and black stockings. Aside from the social implications of exhibiting one's legs in public, a complexion "as white as snow" was the reigning definition of "beautiful" in those days, so ladies were eager to cover up as much as possible. The long garments also prevented sunburn, as suntan lotion was yet to be invented.
Interestingly enough, in 1921 the Miss America pageant began as a bathing-suit contest in Atlantic City, New Jersey (where the pageant is still held today). The seaside city wanted to prolong its summer tourist season beyond Labor Day; so, for publicity reasons, they decided to host a bathing-suit tournament on the shore. As everyone knows, it was a huge success!
Of course, over time styles change, and in pageants, the long "bloomers" of the 1800s to about 1920 became the panel suits of the '40s and '50s which became the form-fitting "super suits" of the '80s and then the 2-piece suits of the '90s. However, because of the changing look of bathing suits, eventually the pageant began receiving criticism for requiring women to wear them. So, a terminology change was made when, in 1946, Pageant Director Lenora Slaughter switched the term "bathing suit" to "swimsuit." Today, the Swimsuit Competition persists in order to show the contestant's level of dedication to physical fitness and a well-toned, healthy body.
As a result of the Swimsuit Competition's popularity, various swimwear events, such as Miss Hawaiian Tropic, Miss Venus International, and Miss American Dream (to name just a few) have emerged. In fact, the first one dates back to 1951 when Catalina swimsuits, a long-time sponsor for the Miss America pageant, decided to start their own event and created the Miss United Nations pageant. After a merger with a company called Universal-International, the name was changed to the well-known Miss Universe/Miss USA pageant!
With today's many pageant systems holding a swimsuit competition, not to mention the country's love of the ocean, spring breaks and summer vacations, it looks as though the world of swimsuits will continue to be a major fashion statement.
---