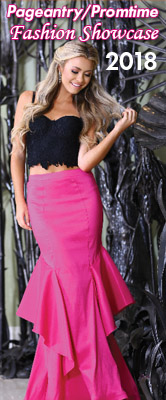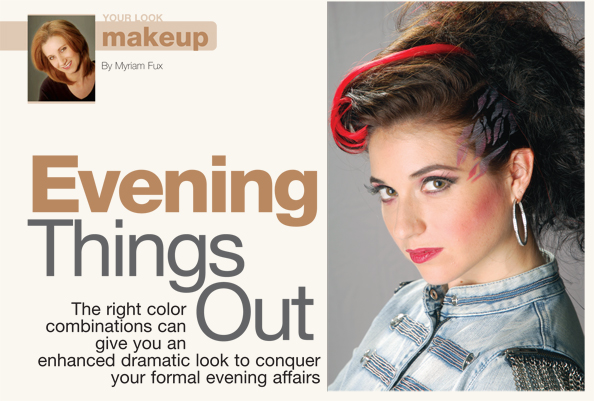 Today's fast paced world often leaves us with little time to change our makeup for a night out. Day makeup tends to be a little lighter and more natural looking than evening makeup. Although both looks use much of the same makeup components, the colors and intensities differ, offering a strong contrast between understated daytime makeup and a sexy evening look. Lighting is usually softer at night and you require a dressier makeover, the idea is to make it look more dramatic than during the day. Here are a few simple tricks to transform your day makeup to a glamorous evening look.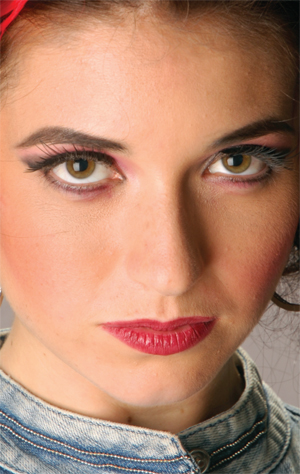 Start with a touch of eye cream to smooth out your concealer under the eyes.
Apply some foundation where needed to even out the skin and cover blemishes or red spots, especially around the nose.
Use a brighter, more intense blush color on the apple of the cheeks and a darker color or bronzer under the cheekbone to contour your face.
If your dress has a plunging neckline or a low cut, apply some glow bronzing powder.
Use some shimmery eye shadow on your eyelids; don't overuse shimmer since the makeup will look overdone.
Switch to a darker shade of lipstick; burgundy, violet or deep rose are the latest fashion, match it with a lip liner of the same or a shade darker, or use a sheer shade with dramatic eyes.
Add a more dramatic look to eyes with a liquid liner or a darker shadow used as a liner and plenty of black mascara.
Try on a stronger and more sensual fragrance and pair it with a great set of earrings.
Here are some combinations you can try:
Red lips with pink cheeks and very little makeup on the eyes.
Smoky brown eyes with bronzed cheeks and cooper lips. Add some lip-gloss to the lips.
Pink or orange lipstick with apricot or pink cheeks, soft eye shadow with false eyelashes and lots of mascara.
Play with white, silver or metalized eye shadow with black contour and heavy liners for a special occasion, complement with false eyelashes and a deep fuchsia lipstick and soft cheeks.
Fix your hair with soft curls or a simple up do.
Use an oil control lotion on the oily areas of your face to keep it shine free.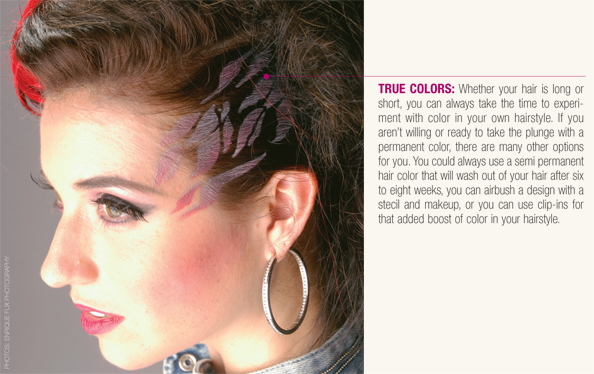 The following makeup look is for a special evening ocassion or party; it includes some airbrushed fantasy makeup alongside the face extended towards the hair.
Her smoky eyes include a metallic silver eye shadow with black matte shadow in the corner and contour to make it more dramatic, a touch of burgundy over the black, blended shadow to make it softer and add depth to the look.
The eyes were lined with liquid black eyeliner and a very thin line under the lower lash. I recommend not bringing the liner all the way to the inner corner of the eye since it would look too round instead of a catlike.
False eyelashes were applied with uneven ends, finishing with a hint of burgundy shadow under the lower eyeliner. If you are using dark eye shadows I recommend doing your eye makeup first and once finished, applying the foundation and concealer. This way, you can remove any dark stains from the eye shadow that might fall on the cheek very easily using eye makeup remover.
Her cheeks are contoured with a dark fuchsia color and light pink on the apples of the cheek, some shimmery powder was also applied to blend the colors.
To complement, her lips were lined with a dark violet liner and a burgundy-red lipstick. Finally, we airbrushed some fantasy shapes in silver and red, extended from the corner of the eye and over the hair to connect the makeup with her hair style.
Myriam Fux resides as a Master Makeup artist and co-owner of M and E Image & Design, a photography and makeover firm based out of Lake Mary, Florida. Myriam has accrued over 20 years of experience in the field of artistry makeup for photography. Her work has been featured in and on the covers of magazines, including Shape, Lake Mary Life, Hispanic Image and Broker Agent. Myriam's amazing level of expertise includes studying under beauty icon Kevin Aucoin. She has been commissioned for the Latin Grammys, as well as makeup art for Salma Hayek and other celebrities. Myriam can be reached at myriamfux@msn.com.

w