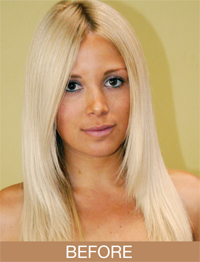 Model Amanda Zitzman is the fill-in Traffic Anchor/Reporter and Multi-Platform Producer for WJXT Channel 4 News in Jacksonville, FL. The 1st Runner-up to Miss Florida USA 2010 representing Daytona Beach, Amanda was also voted Miss Photogenic.
This fall's popular makeup styles are trendy and dramatic with smoky eyes, black eyeliners and long lashes. This look features a twist of modern metallic tones, silver and purple. Shaped eyebrows and lined lips with matte lipstick are appearing in a variety of colors such as light pink, purple, fuchsia, red to almost skin color, and very pale. There are no fake eyelashes this season as they are compensated by the shaded dark pencil at the outer corner of the eye line. Of course, keeping the skin healthy and moisturized is very important for any look in every season.
Makeup can be applied easily, not to cover but to enhance. In the fall, the temperature goes down, we don't go to the beach that often and our skin loses that natural tan and becomes pale and dry. It is important to keep it moisturized. Even if you have oily skin, there are moisturizers in the market specially designed for your needs.
If you are exposed to the HD media like photography and television it is imperative to take care of your skin. I recommend using lightweight foundation if possible, water-based and oil free, to avoid clogging the pores and developing acne. Use loose or pressed powder to maintain a shine-free look and to set the foundation, remember to first use all creams—like concealers, correctors or foundation—before applying powder to seal. Apply extra powder under the eyes to keep the liner in place.
I always recommend applying eye makeup first, especially if you are using dark eye shadow, that way if the eye shadow falls in the cheek it can be cleaned with some makeup remover without messing the foundation. Once eye makeup is finished, you can apply the foundation and powder for a clean look. Using dark eye shadows can get messy, so I recommend starting with very little and then adding as needed.
For Amanda, I selected a very strong and dramatic look, mostly with the eye makeup to emphasize fall trends with the dark shadows and strong definition, using black liners and broken lines. I combined black eye shadow with metallic silver, pink and purples while extending the tones towards her temples for added drama.
This is a look that can be used for modeling and fashion shoots, for runway and fashion shows. Since the eyes are very strong I kept her lips pale with a soft pink lipstick and a matte tone. I would advise to practice and experiment with dark colors and black liners. So you can create a clean and defined application.