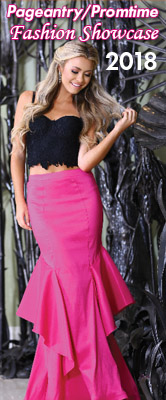 T

here are two distinct looks in fashion this season—a chic, rich look featuring vivid purples, and the polished, put together look, a trend that looks effortless. Here are a few tips to help you glitz up your regular makeup routine when you want to look and feel fabulous.

CHIC RICH LOOK

Currently, shades of lavender, purple, plum and lilac are extremely popular and surprisingly flattering. Purple shades are almost as easy to wear as neutral shades. Purple compares to black or brown, but is much more feminine.

When it comes to purple, the No. 1 rule is to stay away from shades with too much red or too much blue. In addition, when using purple, blending is extremely important as it helps subdue the most extreme shades.

When choosing a lavender, keep in mind that the best pale shades contain some pink. With plum, the deeper the plum the easier it is to wear. If you are wearing purple during the day, avoid anything too dark or too bright or it will look theatrical. Also, a strong purple can be softened if the shadow has a creamy mineral texture, which can be blended well.

In choosing which purple shade is best for you, eye color is an important key. A burgundy purple will bring out the intensity of green or blue eyes. For brown eyes, a purple shade that verges on black is best. Skin tone is also important. Eggplant and lilac are excellent for every complexion. However, the brightest shades of purple look best on pale or very dark skin. A lavender-tinted highlighter on the eyes, brow bones and over-blush on the cheeks gives the sheerest wash of mauve shine. This is especially flattering on porcelain or olive skin.

When selecting a pale shade such as lilac, avoid anything that is almost white. It can make your face look chalky. When wearing any version of purple on the eyes, go light on the lips with a shear, brownish-pink lipstick or nude gloss. Keep blush to a minimum as well. Purple makes a really hot combination with brown so you can use a bronzer or pair the two colors on the eyes. For instance, you can use a chocolate brown pencil along the lash line with a plum or eggplant shadow on the lids.





?

PAGEANTRY TIP:

The first rule to achieving a natural look, as if you weren't even wearing make-up, is to find a foundation that matches your skin tone exactly. If you can detect even the slightest difference in shade, you can bet others can as well. Concealers can sometimes be problematic but, if you choose one with a yellow undertone it will still hide discolorations and blemishes but won't add color.

POLISHED LOOK

Champagne / White Eyeliner:

Champagne / white eyeliner is a great way to draw attention to the eyes without darkening them. For this look, use a nice matte bone shadow on the lid, a taupe shade throughout the crease and a shimmering champagne shadow on the brow bone. Try Makeupart.net's Kohl White Eyeliner. Work a line around the entire eye, staying very close to the lash line. Smudge eyeliner slightly with your finger to soften. This will catch the light. For extra impact, line the bottom inner shelf of your eye as well.

Lashes:

With sparser shadow, you will want to give your eyes an extra pop with lots of mascara. Curl your lashes first to get them up, out and ready to be darkened. Apply a few coats of Makeupart.net's Lush Lash to give your lashes that thick, faux-lash look.

Pale Lips:

Pale lips are everywhere this season and always work well for a dramatic, clean-lip look. For something new and different, go with a plum/peach color. It is unusual, more universally flattering and a tad softer. For a more modern look, try one of Shiseido's Sheer Gloss Lipsticks such as a honey tea shade. The texture of these lipsticks is not as thick and opaque as traditional lipsticks. For a more updated feel, check out Makeupart.net's extensive Mineral-Based Lip Gloss collection for maximum color impact.

Luminous Cheeks:

Rosy cheeks create a healthy, soft look. Choose a nice neutral blush with a hint of berry. Try Dior's Bronze Sunshine Blush in Sunrise Party.

Fuller Brows:

Fuller, thicker brows are hot in Hollywood right now. Fill in any sparse area with a pencil one shade darker than your brow hairs. You want a shade of definition, not a dark fill-in. This way, you will see the individual hairs, which will create a much more natural look. Lastly, brush hairs up and out with a brow gel. Vanitymark's Ultra-Brow Glaze is the strongest on the market.




?

PAGEANTRY TIP:

Eyebrows frame the eyes and lend expression to the face. Grooming them and giving them definition can brighten your face for a cleaner and more beautiful look. A natural and soft eyebrow look can be achieved by applying brow colors with the help of a short brush with stiff bristles. Eyebrow pencils are sometimes overused and your eyebrows may appear artificial or painted on.

?Christina M. Kane is the founder and Chairwoman of the Make-upChannel.com, an online career and education company serving the beauty industry. Ms. Kane is a qualified makeup artist and aesthetician who holds diplomas from ITEC, London; Cidesco, London; Confederation of Beauty Therapy and Cosmetology, London; Dr. G.M. Collins School of Aestheticians, Paris; Linda Meredith Make-up School, London; and Portobello Beauty Therapy College, Dublin. Ms. Kane is a former booking agent for makeup professionals and owner of one of the largest accredited makeup schools in the United States.
w