As the summer season arrives, most people associate it with long, windblown hair and natural highlights, but the truth is that summer can wreak havoc on your hair. If you plan on being out in the heat and humidity, or you are planning on taking a quick dip in a chlorine-filled pool, you can expect that your hair will take quite a beating. Summer humidity, pool chemicals, ocean breezes and salt can all take a major toll on your locks. Your hair could become static, dry, brittle and drab, with frizzy and split ends, as the humidity and summer sun can damage the cuticle of your hair. In fact, the sunlight can be just as harsh as an extra strong blow dryer. During the summer months, it's important to give your hair a little extra care and attention.
However, there are a few summer hair tips that can help you protect your hair, to prevent hair loss, extreme dryness and keep you cool in the meantime.
Rinse, Slather, Repeat
Slather on conditioner or a hair serum before entering the pool. By filling your hair's cuticle with conditioner, less harmful chemicals will seep in. This is particularly important for blondes. The conditioner will act as a barrier and assist your hair in blocking out hazardous toxins.
Protect Your Investment
Use a UV protectant spray prior to sun exposure. It will help prevent color fade, making your natural hair color and highlights stay bright and vibrant. Pack your UV spray in your beach/pool bag and reapply often during your exposure to the sun.
You Need To Chill Out
Look hot by keeping cool. A shorter or thinner hairstyle can do wonders for keeping you cool and fresh. Plus, the thicker and longer your hair is, the more likely you are to experience frizzy hair. But, if you have long or thick hair, you may want to change up your style when it comes to those hot, humid summer months.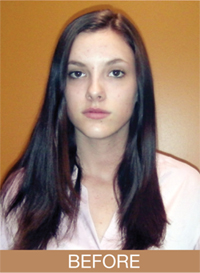 Model Lindsay Davis is Ms. Barbizon 2011, having won the title at the IMTA convention in Los Angeles, California earlier this year. She was also named the winner of Model of the Year, Most Sought After Model, and Junior Miss Model of the Year.
Which brings us to our side-swept hairstyle for this summer season. For our model, Lindsay Davis, my inspiration was Anne Hathaway and one of her many styles she wore for her hosting gig at the 2011 Academy Awards. I decided to choose a style that was easy and elegant, and one that also enhanced Lindsay's bone structure and beautiful neck line—an asymmetric, sideswipe style and a versatile hairstyle that she could wear to many different occasions. First, it is somewhat of an updo which takes away the worry of it getting too frizzy or flat. Secondly, it's elegant even in hot weather, and finally, it is out of the way, so once this look is achieved you don't have to worry about it for the rest of the day. I believe if you're wearing your hair long for this summer, your style should be easy to achieve, fuss-free, comfortable and elegant. Soft waves, healthy, shiny hair with great color are in for this summer while maintaining a light touch with your hair products.

Step 1: I prepped Lindsay's dry hair with Aveda Air Control Hairspray—spraying from roots to ends to give the hair a light, soft, pliable hold.
Step 2: Lindsay's hair was set with a 1-inch barrel curling iron—pinning each section with a bobby pin. When duplicating this style yourself, make sure to not over saturate your hair with hairspray because the final result should be soft with a lot of movement.
Step 3: After letting the hair set for 15 minutes, release the bobby pins and brush the hair with a soft bristle brush. Make sure to brush hair to the desired side in which the hair is going to be worn. All that you need is a few bobby pins securing the hair in place right behind the ear—on the side of the head the hair will be worn. The front part of the style, along the face, should be slightly brushed back away from the face.
Step 4: Reapply hairspray all over the final shape of you hair to hold and smooth frizz and solidify the look.
This carefree and sexy asymmetrical style will go with any dress shape or outfit, day or night, from shopping with your friends to going to a gala event. Summer is all about looking hot while staying cool.
Paulo Figueiredo is currently the Aveda Institute Director. Before joining the Aveda/TSP family in 2008, he collaborated in many fashion/hair shows, photo shoots, and seminars throughout the United States and many other countries. He graduated with honors from Middle Georgia Technical Institute, and has received numerous awards for his contributions to the profession. His art, passion and technical skills, have inspired many people in the beauty industry. At the Aveda Institute he guides a team of the top beauty industry professionals. Paulo has collaborated with designers such as Prada, Gi Gang, Nicole Miller, Erin Wasson and Tuleh to name a few. He is also active in a variety of social and cultural organizations including Habitat for Humanity, Red Cross, Locks of Love, and NAHA .