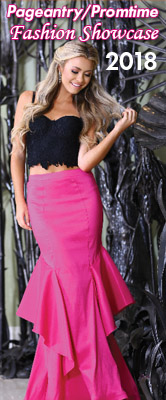 This season we are taking hairstyle cues from fall runways and the red carpet, where there have been lots of sexy-messy ponytails, buns and up do styles. To complement the lavish, detailed gowns for the holiday and prom seasons, focus on a soft, feminine hairstyle that will show off your bare shoulders and accessories.

Here, Amy's hair is loosely pulled away from her face in a simple side ponytail with a light part, which you can do on the side or in the center, depending on the shape of your face. This style can be easily dressed up or down with accessories to complement your look.

In just four easy steps, we'll show you how to do this at home and walk you through a couple of variations. We picked this style for Amy because we were inspired by the soft, elegant approaches to the classic ponytail that we are seeing for fall.

Although we've styled it boho chic here, you can easily do a tighter comb-back and twist; for a more sleek look in this style, rather than using volumizing cream and dry shampoo, use a shine-enhancing hairspray and make a tighter ponytail and twist. This will give you a wet-looking vintage finish. For extra volume, tease the top and side sections before twisting and pinning. Or, to build this into a more formal up do hair style, all Amy would have to do is twine her hair around into a chignon or bun, and secure it with bun sticks or bobby pins.

For additional sparkle, or to catch wisps or fly-aways, you can use crystal mini combs or bobby pins on the side.

To see more step-by-step hair style guides for other styles, visit our blog at www.sohostyle.com/community.

To get that sexy-messy look, start with a volumizing cream or spray, then add a dry shampoo to create a matte texture. Depending on the length and fullness of your own hair, you may want to consider adding clip-in hair extensions. Amy is wearing 19-inch clip-in extensions made of real hair by SoHo.

Next, backcomb the hair at the top of your head and gather your hair into a loose, low ponytail. While holding your ponytail in one hand, gently pull the top of your hair forward to get some volume at the front and top of your head.

Now, twist the ponytail to one side in a counter-clockwise direction, so the lip of the twist is on top.

To secure the twisted ponytail, you can use nearly any type of hair accessory. Amy is using two crystal barrettes by SoHo, but bobby pins, bun sticks or a large hair comb could be used as well. To complete this style with barrettes you want to catch about half of the hair in the twist and secure on the upper side of the twist, close to your head. If you are using only one barrette, place it at the base of the twist for a firm hold; with two barrettes you can space them out along the twist as Amy has done. To secure this twisted ponytail using a hair comb, insert a medium or large hair comb (depending on the length and thickness of your hair) towards the bottom of the twist. For an extra secure hold, first direct the teeth of the comb through the twist, pointing directly at your head, catch some of the hair in the twist and then turn the comb and insert it fully.

Cari Redington is the National Sales Director for SoHo Fashion, a Los Angeles based manufacturer and retailer of high end and special occasion hair accessories. Since the company's inception in 1998, we have expanded to include approximately one hundred self-branded retail locations in the U.S. and are currently expanding into the boutique channel and internationally. SoHo, a name that symbolizes originality and creativity in the art community, has been our inspiration to produce distinctive hair accessories for our clients. It is our mission to enhance the beauty and style of women with distinctive, high quality hair accessories. Whether your style is trendy, classic or casual, our hair jewelry adds a little glamour for any occasion. All of our original designs are made from casted metal or lightweight moulded celluloid and accented with Austrian crystal. Inspired by nature, seasons, culture and trends, our aesthetic is constantly evolving. Please visit us at one of over 100 locations throughout the U.S. or online at www.sohostyle.com, to view the full product line and experience our impeccable customer service.
w