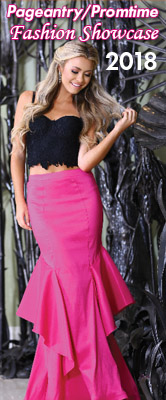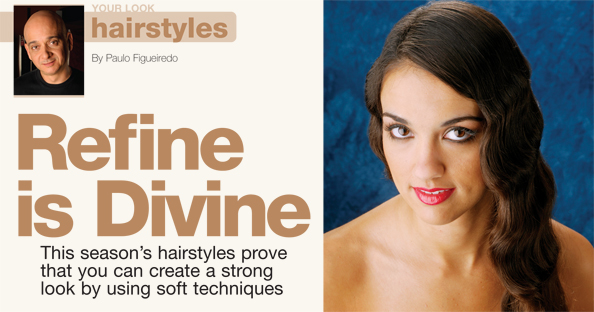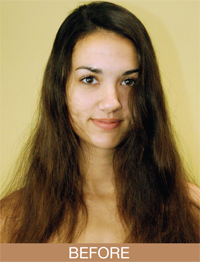 Model Natalie Martinez, Miss Alachua County Teen USA 2011, is a 17-year-old junior at Columbia High School, in Lake City, Florida. She's an "A" honor roll student, varsity cheerleader, and also a student at Lake City Community College where she is working to receive her general A.A. degree by the time she graduates high school. She will go on to compete in the Miss Florida Teen USA 2011 Pageant this year.
As we move out of the carefree buns, unkempt chignons, and messy waves of summer, fall introduces a more refined and sophisticated approach to styling hair. It brings various textures to enhance femininity and softness. Fashion trends that are embracing strong masculine lines are not lacking in sex appeal with the use of textures like lace and velvet. In this look for Natalie, we've incorporated a strong design while maintaining soft movement.
Because Natalie has long, straight hair, we wanted to add a pronounced wave, sharper and cleaner than the waves we've seen this summer. This look incorporates a delicate texture with more of a firm finish. By not combing out the waves, it reflects the sharpness and elegance complementary to this seasons fall fashions.
We feel like this is a classic look that will make any girl feel glamorous and sophisticated. Whether it's for a night out with friends or a formal event this look can be dressed up or down. Sweeping hair back on one side and pinning up with a cute hair comb or clip can add a bit of individual style and complete your look.
Here are some key factors to consider when recreating this look:
Product Selection: Hair was prepped with AVEDA's Volumizing Tonic from scalp to ends. This helps add shine and hold the shape while giving the hair some lift.
Tool Selection: A double barrel wave iron, The Nalu by Recession Tools, was used by weaving hair through to create a strong "S" pattern.
DO: Use your product generously.
DON'T: Run comb or fingers through finished waves
Long is the New Short
Fashion experts all agree that the once-beloved shorter styles—and namely the bobs and boy cuts—have expired as a celebrity favorite. The new look for many of Hollywood's most glamorous actresses is long and flowing, or curled locks that reach below the shoulder. The longer that you grow your hair out, the more essential a layered cut becomes, because it's the best way to ensure that your hair doesn't become dull and flat. In addition to the layered cut and slight curls, many celebrities are opting for length that hits the middle of the back. This style creates a bevy of options for strapless or open-back gowns.

Amazing at Any Angle: (Above) A 360° look at Natalie Martinez' Classic Hollywood inspired hairstyle. (Far Left) Master Hair Stylists John Souza and Todd Paskey have some fun aiding Aveda Institute Director Paulo Figueiredo in creating this trendy, long and wavy style. (Left) With the curls set and the top section completed, Todd Paskey adds the finishing touches by spraying Aveda Control Force Hairspray to solidify Natalie's fashion idol look.

Step-by-Step
1. Liberally apply Volumizing Tonic from scalp to ends to the entire head.
2. Starting at the nape of the neck, take 1 inch sections and weave them through a double barrel iron.
3. Move down the hair until you reach the ends.
4. Continue the process, using horizontal sections up the head, visually matching up the waves as you go.
5. Once top sections are completed, finish with Aveda Control Force Hairspray to set the look.

To update your look this fall, work with various textures while maintaining a strong shape. Don't diffuse them by combing them out—allow them to stay true to form. To draw emphasis to a backless outfit, try sweeping hair over to one shoulder and securing the back with bobby pins. Adding accessories like combs and clips can personalize this look and make it your own.

Twist and Shout
Another variation of this style, that's sticking around thanks to the resurgence of longer hair, is the rope braid or twists. The beauty—and fun—of twist styles is that they leave your hair open to interpretation. You can take your loose strands and move them around any way you want, using just pins and products to hold them in place.

Braids and twists are the perfect way to employ a look that's messy and carefree, but also meticulous and inspiring. A French twist is a perfect example of an old look that can be revived with this long hair renaissance. These styles are quick to put into place and they're nearly effortless. Even better, they're perfect for any occasion. It's a simple process of twisting two strands and then winding them together. Braids are perfect down the sides or just straight down back. In this case, even the buns will still work.

A Hollywood Classic
I chose this look for Natalie to give her an old-yet-new look, together with her hairstyle. I wanted to give her an old Hollywood look—almost surreal—out of the classical books with a new twist that the fall trends bring with the dramatic and dark matte tones. — Myriam Fux

Paulo Figueiredo is currently the Aveda Institute Director. Before joining the Aveda/TSP family in 2008, he collaborated in many fashion/hair shows, photo shoots, and seminars throughout the United States and many other countries. He graduated with honors from Middle Georgia Technical Institute, and has received numerous awards for his contributions to the profession. His art, passion and technical skills, have inspired many people in the beauty industry. At the Aveda Institute he guides a team of the top beauty industry professionals. Paulo has collaborated with designers such as Prada, Gi Gang, Nicole Miller, Erin Wasson and Tuleh to name a few. He is also active in a variety of social and cultural organizations including Habitat for Humanity, Red Cross, Locks of Love, and NAHA .

w