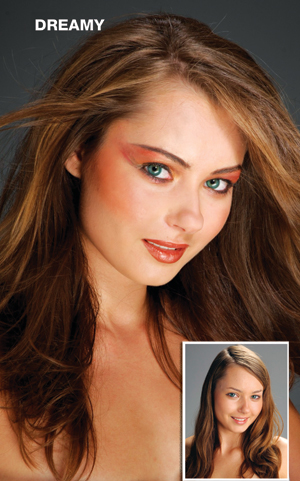 Model Alina Pokidova, seen in picture inset to right in her before shot, is a model and accomplished dancer. She can also be seen in the Pageantry and PromTime 2010 Fashion Showcase photo shoot.
Hair is one of the most important factors when it comes to personal style. It is an everyday style and as much a part of our wardrobes and fashion sense as any article of clothing. Your hairstyle makes a statement, demands attention and should showcase your imagination and personality. It should be the first thing someone notices when they set their eyes on you. Because of this attention and your hair's natural status as the frame of your face, it is important to enhance and work with the hair's natural texture.
My visit to the 2010 Mercedes Benz New York Fashion Week, as well as my gorgeous muse Alina, inspired my creative approach to these three looks.
Dreamy
My first look was primarily inspired by The Victoria's Secret store front in Manhattan and Erin Wasson's Spring 2010 collection. The idea behind this is shiny, healthy, sexy hair with an abundance of volume and movement. A hairstyle like this should be every woman's dream. This look grabs the attention and is unique for each woman, because it helps create a personality and attitude without even saying a word.
First, we shampooed Alina's hair with Aveda's Pure Abundance Volumizing Shampoo and Clay Conditioner, leaving the hair with more volume and versatility. We utilized several of Aveda's liquid tools to achieve the style. Aveda's Phomolient Mousse and Aveda's Volumizing Tonic were applied to Alina's damp hair, then blow dried in with a paddle brush, smoothing the hair's cuticle while adding lift and shine. Each section of her hair was then sprayed with Aveda's Air Control Lightweight Hairspray and set with hot rollers.
Fifteen minutes later, the hot rollers were removed, and the crown was back-combed for extra lift. With a few generous drops of Aveda's Brilliant Emollient in my hands, I ran my fingers through Alina's hair creating a sexy, sultry and luxurious look.
Now all she needs is a simple dress, great pair of shoes, and the right accessories for a night out on the town or a casual evening with her girl friends. With this unique hairstyle, accessorizing is simple.
Simply Sophisticated
Versatility is everything when it comes to styles and trends. For my second look I wanted to create something that could be easily transformed from casual to elegant in just a few quick steps. To enhance Alina's exotic facial features, I decided to go with an asymmetrical shape that would be simple yet sophisticated.
To tame unwanted fly aways, we prepped the hair with Aveda Men's Grooming Clay and combed until sleek and smooth. The hair was then swept away from the face, pinned just below the crown, set with Aveda's Pure Abundance Volumizing Hairspray, and left to rest on Alina's shoulder.
The style is left looking casual, while still keeping it's sleek appearance. Now a quick dress change and Alina would be ready for any elegant dinner.
Sexy and the City
For my final style, I looked to Nicole Miller's 2010 Spring collection. I wanted a sexy, fresh, updated, and versatile look that would turn heads throughout the city.
Alina's hair was first swept up off the neck, and pinned to the side, complimenting her defined face shape. Left with pliable hold from the Pure Abundance Volumizing Hairspray, the hair was easily combed back and divided into three individual sections. We can achieve two different looks at this point.
One option is to secure the sections with bobby pins for a sleek, elegant look. But for that wild and sexy look that will be sure to turn heads, we push this style one step further. Taking one section at a time we start brushing in the exact opposite direction that we normally would. Beginning at the end of her hair and brushing upwards, we cause friction and "tease" the hair. We continue the same pattern until all sections are done. Finally, we keep our masterpiece in place by finishing it off with Pure Abundance Volumizing Hairspray.
These looks are simple and effective, and they work for anyone. They're attainable and manageable, and perfect for any event. With these looks, Alina is ready to hit the red carpet for world class premiers, and she's ready to steal the spotlight.