After the Miss Florida USA '98 Pageant, Miss Florida USA '98 Melissa Quesada poses with Mayor Alex Penelas (R), of Miami-Dade County, and with Donald Trump.

PHOTO BY RAYMOND YOUNG
Pageantry's National Marketing Director Carl Dunn (L) and Photographer Don Seidman (R) chat with Donald Trump (a.k.a. "The Donald") about the Miss USA 1998 Pageant. Mr. Trump co-owns the pageant with CBS.

PHOTO BY RAYMOND YOUNG
Ali Landry and Donald Trump share a moment with Pageantry photographer Raymond Young during the Miss USA 1998 Coronation Ball.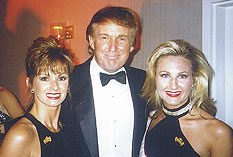 Beaming from head to toe is Donald Trump with (L) Kathy Wheatley, Owner of Elite Productions, and (R) Erin Maxwell, 1997 Ms. Petite Texas.

PHOTO BY RAYMOND YOUNG
Donald Trump (R) takes advantage of a perfect opportunity to pose with the very successful Miss Venezuela Director, Osmel Souza (L), and Miss Venezuela Veruska Tatiana Ramirez (C).

PHOTO BY RAYMOND YOUNG
KGMB News reporter Mahealani Richardson (L) gets the views of the Miss Universe Pageant directly from Chairman, and President of The Trump Organization, Donald Trump.
<< PREVIOUS: Britney Spears • ^^ BACK TO CELEBRITY SPOTLIGHT • NEXT: Twisted Sister >>

w