Narissa Richie, a former Florida and Int'l Supreme, is scooped up by Mario López in Las Vegas during the Miss Hawaiian Tropic pageant.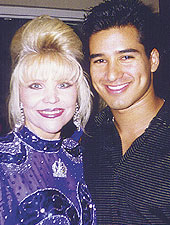 Mary West, Mrs. Louisiana America 1992 and Director of the Miss New Orleans Pageant, welcomes Pacific Blue's Mario López to the 19th Annual Miss New Orleans Pageant.

PHOTO BY RAYMOND YOUNG
Krista Frazier (R), Miss Hawaiian Tropic International 1995, and Miss Philadelphia Hawaiian Tropic '97 Judy Meyers (L) are thrilled to meet Mario López, well known for his roles in the hit TV shows Saved by the Bell and Pacific Blue.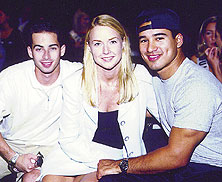 Taking a moment to relax during dress rehearsals are (L-R) Geoffrey Moss (Mario's P.R. man), Maureen Quinn (former V.P. of Marketing for Miss USA), and Mario López.
<< PREVIOUS: Lorenzo Lamas • ^^ BACK TO CELEBRITY SPOTLIGHT • NEXT: Dan Marino >>

w