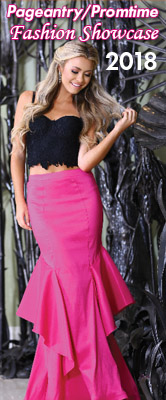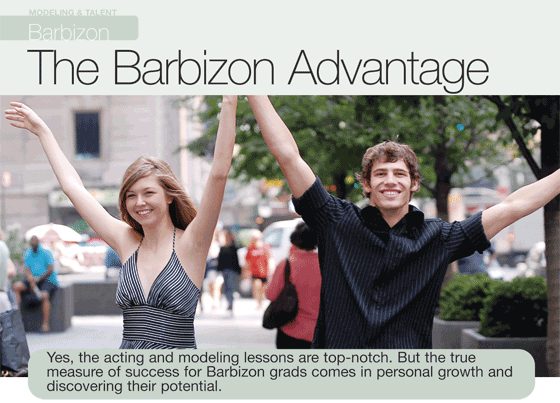 A

s we are doing in this issue with IMTA, we have asked one of Barbizon's top-flight managers, Pamela Burch, to present a question-and-answer overview of the Barbizon philosophy and practices. Ms. Burch's experience as both a Barbizon student, model, pageant contestant, and the current Director of Education for Barbizon Northeast/USA provides a unique perspective on the dynamics of the programs Barbizon offers at its more than 100 modeling and acting centers. As you will see from her comments, there's more than meets the eye at Barbizon.
What is the history of Barbizon?
Barbizon was established in 1939, and originally, I would say we were more of a "finishing school" for young ladies. Programs focused on etiquette, manners, grooming, and hygiene, as well as self-confidence. Our curriculum has evolved and now focus on modeling and acting for both young ladies and young men. Additionally, although we cannot guarantee employment of any kind, each Barbizon Modeling and Acting Center also has an in-house placement agency for their graduates. Even so, we have stayed true to our "old-fashioned" roots. Etiquette, manners, grooming, and personal hygiene are requirements in all of our curriculums.
Barbizon is proud to have top industry professionals on its board of directors, and our intensive modeling and acting curriculums are taught by professionals. With their counsel, our curriculums are constantly being updated as the industry evolves.
What is the philosophy of the Barbizon training centers?
The world-famous Barbizon course curriculums prepare students to enter into the world of modeling and acting with self-confidence, poise, and style. At Barbizon, we teach the same modeling and acting techniques used by today's top models and actors. We teach students how to audition, act, walk the runway, speak and behave in a polite manner, dress and groom themselves, and much more.
However, the root and underlying theme of our corporate mantra has always been personal development, confidence, and self-assurance. We are all about helping our students discover their potential. We believe it is imperative to create a foundation early in one's life upon which many successes can be built.
Not everyone who attends Barbizon has the goal of becoming a professional model or actor. Many enroll to develop skills to help them in everyday life. When you come to Barbizon, you are taking the first step towards enriching your life.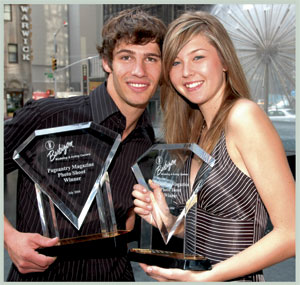 MS. and Mr. Barbizon 2006: Malaika Pitts and Dustin Allen made a big leap ahead in their modeling careers with their selection by Pageantry at the Barbizon Awards ceremony during the IMTA convention in New York City.
How many training centers are there, and what is the benefit of attending a training center?
There are more than one hundred independently owned and operated Barbizon Schools worldwide. At Barbizon, we pay a great deal of attention to the individual needs of each student. Every person walks through our doors for a different reason. Trade and vocational schools, as with education in general, serve a greater underlying purpose than the specifics of their course offerings — development as a human being, maturity, and gaining the tools needed to succeed in life are all reasons for attending a Barbizon school.
What has been your personal experience with Barbizon?
I came to Barbizon at a young age, and it has been a part of my life for 15 years. The training I received gave me courage and confidence. Although my achievements are many, I have also met with failure as well. Because of the training I received, I had the confidence to take chances, keep returning for other opportunities, and not get discouraged or give up.
As Miss Bellingham, I competed in the Miss Massachusetts USA Pageant for several years. I've enjoyed a modicum of success as a model as well. I have gone into job interviews and interacted in countless group settings professionally, as well as academically. Public speaking is a big part of my job, and training at Barbizon proved to be the core of my confidence and success.
Are there any household names that we might recognize as former students of Barbizon?
Many of our graduates have achieved success in pageants. Amelia Vega, a Barbizon graduate, was recently crowned Miss Universe. As far as talent, Gena Lee Nolan, who starred in Baywatch, is just one of our success stories. Unfortunately, although successful, few models become household names. They do enjoy exciting and prosperous careers, though.
What are the benefits of attending a modeling convention?
The Barbizon Awards are industry showcases, as well as an awards and achievement ceremony. They are an incredible opportunity for all our graduates to perform in front of top industry professionals — to showcase their talents. These events are popular with modeling and talent industry professionals as a means of getting a first look at new talent.
How long has Barbizon been affiliated with IMTA?
We have been affiliated since day one. When presented with an opportunity to showcase our kids to top industry professionals, we jumped.
How can an individual prepare for a convention?
Barbizon schools, as well as other independent and franchised schools from all over the world, participate at IMTA. Each school is responsible for providing IMTA preparation, coaching, and training. Barbizon Northeast has many schools and/or satellite training campuses throughout the United States. We hire many top industry professionals with proven IMTA success for our IMTA coaching, training, and preparation. Year after year, our kids win top awards and get offers of representation from top agents and managers.
Pageantry has featured several models from Barbizon over the years in the Pageantry and PromTime photo shoot. How many models would you estimate have been featured?
Joanna Dickey, a Barbizon of New Orleans graduate, appeared on the cover of the Pageantry/PromTime magazine [spring 2005], and Jacquelyn Mountel, from Cincinnati, appeared on the cover and inside pages of the PromTime magazine [spring 2005]. However, with more than a hundred independently owned and operated Barbizon Schools worldwide, I wouldn't know the actual number [approximately 25]. I do know we are proud of the many models from the Barbizon Northeast schools that have been featured.
What has been your feedback from models that have worked on one of the shoots?
It's a dream come true for our kids. To work with professionals in a professional setting and then see the finished product is an amazing feeling.
In featuring several Barbizon models within the photo shoots, what has Pageantry been able to offer the Barbizon models?
The "hands on" experience is invaluable. At Barbizon, we do our best simulate the professional environment they will experience when they book their first jobs and use top photographers. However, there is no substitute for the real thing.
In awarding the honor of Ms. Barbizon (both in L.A. and N.Y.), what is the recognition gained by the young person receiving the award and title of Ms. Barbizon?
Other than the joy, pride, and sense of accomplishment and achievement, the Ms. Barbizon title opens eyes and doors. Competition among agents and managers at IMTA is fierce. It's impossible for them to see all of the contestants at the convention. Anyone with recognition and/or awards will be the first names on call-back lists, and most will be asked to read or audition privately.
How do you see the modeling industry growing?
Personally, I believe the industry is leaning towards "real people." Fashion has broadened its marketing and advertising. Top designers' lines have made their way into chain stores. Years ago, plus-size models were rare. Now, models come in all shapes and sizes. As you know, there have been weight issues raised recently with models in the international market. We may see minimum weight requirements for models more often in the future.
Anything else you would like add?
I have been a member of the Barbizon family for many years, as both student and employee. I am fortunate to work for a company in which I truly believe in its product. It is my belief that when you come to Barbizon, you really are taking the first step toward enriching your life.
w