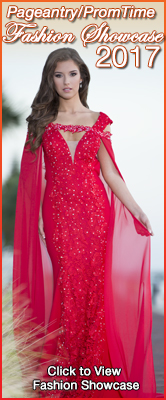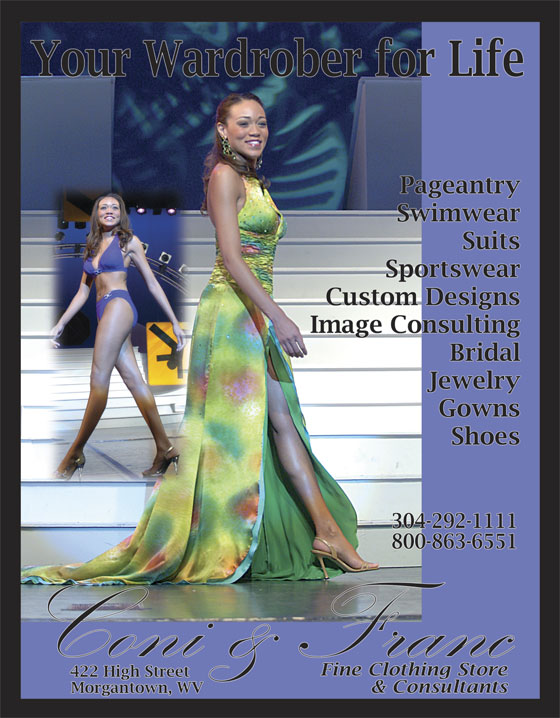 Tell us about your retail store.
We are a complete ladies shopping experience. We carry foundations, shoes, hats, scarves, evening bags, and fashion hand bags, an extensive jewelry selection, everyday and designer sportswear, all categories of suiting, day and cocktail dresses, and simple to elaborate evening gowns.
What are your policies for doing business online?
An image web site will be up November 15, at www.coniandfranc.com
What divisions do you carry?
The categories include: christening gowns, first communion and competition dresses for young girls with all manner of accessories; complete pageant salon, including swimwear, pageant equipment (body tape, roll-on body glue, adhesive gels, etc.); novelty sportswear, on-stage and appearance apparel; and cocktail and competition gowns. We also have a complete bridal salon, including bridal wear, mothers, maids, lingerie, invitations, etc. Also, we deal in furs, fine jewelry, Prom, and Homcoming as well. We are consultants for Doncaster and Elana designer collections, sizes 2 petite to 26W.
Do you offer custom design services?
We offer custom designing in all divisions. Also, we will refashion an item — for example, to remove or add sleeves, add embellishments, and cut down or build up necklines or the backs of gowns.
Do you offer gown registry?
We do offer gown registry but most often we have one-of-a-kind items or refashioned styles to suit the individual.
What are some of the unique services offered at your store?
We offer exceptional customer service, fabulous alterations, coaching, personal shopping, and wardrobe consulting with all customer needs covered under one roof. People come to us because they will leave appropriately dressed for their event.
How do you reach your customers and grow your relationship with them?
We advertise locally, regionally, and nationally, but word-of-mouth is the finest advertising we have.
Where do you see your business and industry trends heading?
We flow with fashion trends and personal needs of the event and the customers body makeup and attitude. All parts of the country are different in tastes and fashion perception. We guide our customers to dress with great taste, enhance personal beauty, and acquire the personal confidence to perform their daily and special event tasks to their greatest ability. We enjoy industry trends, but keep in mind what suits our customers the best. Our business becomes more specialized by the day.
Why do you love what you do?
It is a magnificent feeling to see the transformation of our customers, walking with beauty and grace, understanding that with the correct wardrobe they can concentrate on their performance no matter what the task and know they will do their very best.
Coni & Franc
established 1982
422 High Street
Morgantown, WV 26505
Connie Merandi
Frank Merandi
www.coniandfranc.com
800-863-6551